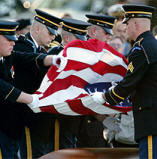 Your Veterans Funeral Care Provider is one of the few funeral homes to list its
costs online. More and more families these days are looking at the services they are provided for what they pay. In fact some families have actually begun to compare prices and services before a death may occur. This provides them
a chance to see the funeral home facilities, meet who they may be working with
in the event of a death, compare services, and most of all check on costs.

While any funeral home can provide a funeral service, we believe in assisting
the family in creating a personalized tribute that is as special as their loved one. We have many options available at little or no cost to the families we serve.

Please note these costs below do not include any cash advance items or additional service's that may be applicable or selected by you. If you have any questions or would like to find out the complete total of a service, please call for an estimate or to schedule a no obligation appointment to come in and receive an itemized estimate. We encourage service and price comparison among other local funeral homes.

What are Cash Advances: Cash Advance items are the charges for services or merchandise purchased from outside of the funeral home. While other area funeral homes may make families write several checks for these costs, we feel that it is not right to burden families with such a task, thus we pay for advance items on your behalf and list them on funeral statement.

Traditional Funeral Package
w/ visitation and funeral held same day
Traditional Funeral Package
w/ visitation held 1 day prior to the day of services
Immediate Burial Package
w/ choice of having graveside service
Immediate Burial Package
w/ opportunity to view prior to graveside service