Through Michigan Cremation & Burial Services partnership with MedCure we are able to provide Michigan families the option of Anatomical Donation with one of the nations leading research providers at No Cost. Many families have found great comfort in knowing that they receive free assistance in handling social security benefits, life insurance claims, veterans benefits and much more when selecting MedCure through Michigan Cremation & Burial Services. They experience the compassion when dealing with any MedCure family counselor or Michigan Cremation & Burial Services staff.

Click on the MedCure logo above to visit there website or call 1-866-560-2525 for more information.
Be sure to let the MedCure family counselor know that you heard about them through Michigan Cremation
& Burial Services to receive the care that your family and loved one truly deserve. We strongly encourage families that are considering anatomical donation to contact us prior to a death occurring. We can gather the necessary information, conduct any required pre-screening, and help answer any questions about the events that will take place when we are called on.

Your Gift to Future Generations
There is simply no adequate replication for the human body when it comes to teaching and research. The gift of donation provides the ability to find cures for debilitating conditions such as cancer and Alzheimer's among many others. Donations are also important to develop new medicines, study human anatomy and practice and perfect new surgical procedures.
Each donation is highly valued and treated with the utmost humanity, compassion and respect. Most people are eligible for donation regardless of their age, disease, or state of health.
The generous gift of body after death is a compassionate alternative to a traditional funeral. MedCure covers all costs associated with donation which include: transportation, cremation, two certified copies of the death certificate and timely return of cremated remains to family (if requested).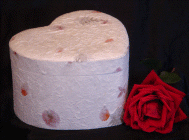 The extra care through Jansen Family Funeral Home and
MedCure is true. From the letter letting you know that your loved
ones cremains are being sent to you; To the beautiful heart urn that is
suitable for burial in most cemeteries or scattering.